SEO
Search Engine Optimization – SEO is of primary importance for the success of any website, as around 80% of prospective customers use search engines as a key source of information, but only one site user in four looks beyond the top ten results. That is why location-based and overall optimization of your website's search engine ranking, together with a comprehensive keyword analysis, is a central factor in your success in winning new business.
We will provide you with the support you need to improve your ranking with Google, Bing and other search engines on a long-term basis, allowing you to be found with the most relevant keywords. This may be as part of a coaching process or a technical implementation, or within the scope of a holistic process of optimization and maintenance. Depending on the approach and the tools that are selected, the first successful outcomes will be noticeable within a relatively short period of just a few weeks.
Search engine optimization can be divided into two separate distinct activities: On-page SEO and off-page SEO.
Off-page SEO
trendlux's off-page search engine optimization targets measures to improve your website's PageRank by increasing its link popularity. This occurs as a result of building and maintaining so-called "backlinks" (links and recommendations that lead to your site). This process initially targets sites that are particularly active and relevant within your immediate business environment, so that the backlinks are scored as highly as possible. We expressly do not recommend (or use) so-called "link farms" that collate links, web pages or entire domains online: a "bad neighborhood" can cause search engines to penalize a page's ranking, causing the page or even the entire domain to be excluded by the search provider.
On-page SEO
trendlux's on-page search engine optimization collaboratively implements methods aimed at improving the page's search engine ranking directly on the web page itself.
On-page SEO analysis and optimization includes the following aspects, among others:
Page title: The title of each page has a substantial influence on its search engine ranking, and is additionally used as a short summary of the content by the search engine's results page.
Domain/URL: Web addresses are processed in order to insert relevant keywords. The addition of keywords can either take place dynamically (based on the page title) or manually. A URL such as www.examplepage.de/index.php?id=10 is much less expressive than a path such as www.examplepage.de/new-it-press-releases.html. The technical term for this process is the generation of "search engine friendly URLs."
Webpage content: Content is the single most important factor that defines a successful online presence. First and foremost, you need to use keywords and HTML tags effectively. This means striking the right balance between readable, informative content, and the right density of keywords to generate search results.
Description: Search engines often display the meta-description tag (a page description that is embedded in the source text) on their results page, together with a relevant link to the page itself, to provide users with more information about the web page.
Structure: trendlux can optimize the structure and technical implementation in line with the rules set by the W3C (the World Wide Web Consortium). This leads to improved page ranking results. A further benefit of W3C validation is that the page will be displayed almost identically in all web browsers, thereby minimizing errors, testing and adaptation exercises.
Keywords: Extensive know-how is required to use relevant, context-appropriate keywords effectively. "Keyword stuffing," which is the simple insertion of endless lists of keywords, is overwhelmingly counterproductive, as search engines may consider this to be spam, which causes them to exclude the page from their search results.
SEO expert check by trendlux PR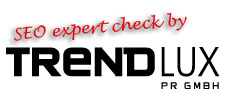 Is your website content set up to target the right keyword searches? Is the content implemented to make the most of search engines and what are your website's strengths and weaknesses from a search perspective? In order to identify your website's unused SEO potential and provide an effective basis for ongoing search engine optimization, trendlux offers an expert SEO check for your website.